Meet Jennifer Cruickshank, R.M.T.
The Junction Registered Massage Therapist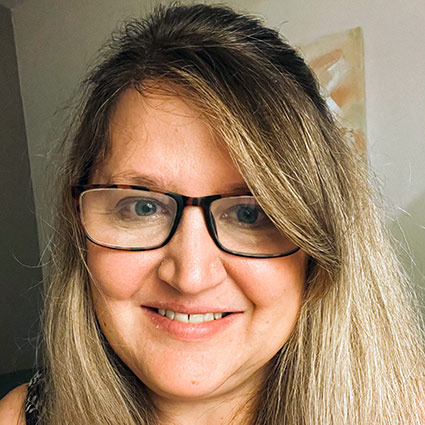 Hi there, and welcome. My name is Jennifer Cruickshank. I'm a born and raised Torontonian, and from an early age massage therapy came second nature to me. My mother was a nurse, and my first "patient". She encouraged me to pursue massage therapy. I took an intro course to see what the 2-year program would be like, and 25 years later I am as ever avid about my profession. I love working with people and providing evidence-informed holistic care.
I graduated from the renowned Sutherland-Chan School of Massage Therapy, in Toronto, and have practiced at Kingsway Chiropractic Center In The Junction since 2001. My treatment style evolved to include a variety of techniques. I strive to decrease pain and the stress response. If you prefer very deep pressure, then I may not be the therapist best suited for you.
Why Choose me as your Massage Therapist?
No Talking
I follow your lead, so take the time to unplug; yet recharge. If you like to chat; that's good too, it's totally up to you.
No Tipping
My massage therapy fees are inclusive, eliminating the concern about additional cost or tipping.
Comfort
My massage table and linens are very generous in size to accommodate all body types. The space is clean and inviting; so you can feel at ease.
Convenience
Direct billing is available which can reduce out-of-pocket expenses. Check with your insurance plan for your coverage and billing details.
Self-Care
I offer Physitrack® a platform of exercise and education videos; a link will be emailed to you, which will help you manage and maintain your care after your massage. Following a self-care program helps get best results; and I have the resources to empower your healing and health after leaving the office.
Punctuality
I value your time, so appointments always start and end promptly to maximize your hands-on time.
You Are in Control
Your visit is about you, not me. Each treatment will be provided after we've agreed on a treatment plan, pressure, areas of concern, and answer any questions you may have. You may alter or withdraw consent at any time.
Individualized Care
Everyone is unique, so treatments cater to your specific needs. I note your preferences, pain levels, lifestyle, and previous injuries to create a comfortable experience.
The Relief You Need
My massage treatments help with pain relief, to manage or reduce stress, improve mobility, injury prevention and care, and address common concerns such as job, postural or recreation related muscle and joint stiffness.
Music (whatever you prefer)
I know music can be relaxing, and enhance the calming effect. I'm happy to play the type of music that creates the best massage therapy experience for you.
Away From the Practice
During my free time, I love getting outside, be it with my husband, or family, on a golf course, in the garden, with friends exploring what our city has to offer, and showing my cat some love. I also like a new challenge; have experienced Edge Walk, white-water rafting, scuba diving; and travel when I get the opportunity.
---
Jennifer Cruickshank, R.M.T. | (416) 236-9919