Massage Therapy in The Junction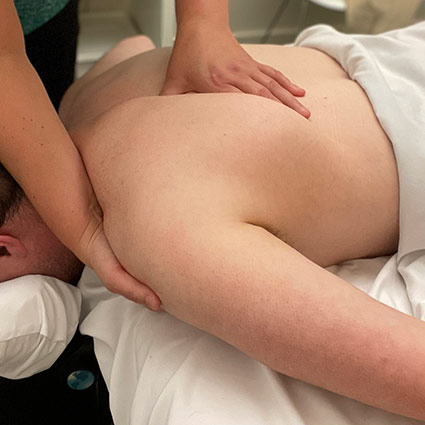 Whether you're seeking to relieve pain or alleviate stress, consider massage therapy at Kingsway Chiropractic Center In The Junction. Jennifer Cruickshank, RMT provides her patients with therapeutic treatments that address pain, injury, and reduce stress; so you can feel and move better.
Care for Your Muscles via Your Nervous System
Jennifer's skilled approach helps reduce muscle tension and calm the nervous system, which reduces pain and stiffness, increases mobility, and instills an overall sense of well-being. Together you make a treatment plan to suit your needs, preferences, and goals. Tracking and noting your symptoms before your appointment, will allow Jennifer to best assess what will be most beneficial specifically for you.
Massage therapy is an effective method of care for many common complaints such as muscular overuse injuries: strains/spasms typical in back, neck or shoulder pain.
Comprehensive Consultation
For patients seeking pain relief and rehabilitation, a thorough consultation and assessment will be completed to inform the best approach. Together you will discuss the treatment plan beforehand and what to expect each session. Jennifer ensures that your treatment plan is clearly explained, and with your consent. You may alter it, or stop the treatment at any point. Your comfort is always respected.
Customized Pressure: Jennifer knows there can be some days when you are more sore or uncomfortable . You guide the amount of pressure, and she will fine-tune it as you need. This can vary by individual and condition, so being honest about your pain level allows for the most effective session.
Pain Relief: Whether pain is acute or chronic, massage therapy can help alleviate, and manage pain, and Jennifer aims to empower you with self-care so you can minimize or prevent recurrences.
Self-Care Exercises: Your healing and overall maintenance will be greatly enhanced with self-care; often strengthening, mobility, and stretching exercises will be given as part of it. These will be geared to match what will be easily part of your routine and ability. While many people come to us for pain relief, having an opportunity to just destress and relax is also a big component of your care.
24 hours' notice of cancellations/rescheduling is required. Late cancellations/rescheduling fees are; a 50% treatment fee will be charged with less than 12 hours notice, a 25% treatment fee with less than 24 hrs notice, and 100% charge for a no-show. If you arrive late for your appointment, we will try our best to accommodate your full booking; the full cost of the original booking applies.
Massage Fees
30 Minute Massage: $75
45 Minute Massage: $100
60 Minute Massage: $122
75 Minute Massage: $137
90 Minute Massage: $155
*All Massage therapy fees incl. HST*

Take the Next Step
Be it headaches, arthritis or jaw pain, and pre and postnatal massage, Jennifer is skilled in several methods to provide you with relief of the everyday aches that come up in your life. Book an appointment online today. It's easy with the Jane app!
---
Massage Therapy The Junction, Kingsway, Roncesvalles, Toronto West ON | (416) 236-9919