About Kingsway Chiropractic Center In The Junction
Transforming Lives Since 1995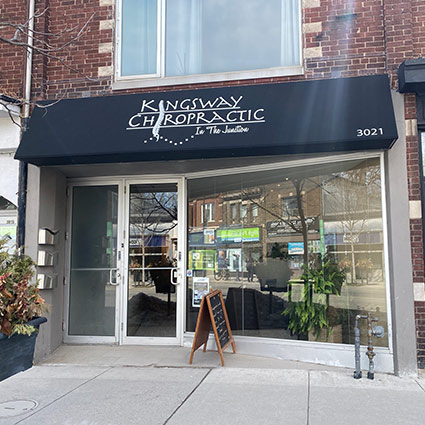 Our team of caring providers has over thirty years of combined experience, helping our patients recover, retain, and achieve their optimal health. As our name suggests, we grew a wonderful practice within the Kingsway, from 1995-2010.
Moving Forward, We've Got Your Back
Our approach is to be your health facilitator. To do this, our team will provide you with our knowledge and skills to help you feel and function your best. This is in partnership with you, to accomplish your health goals.
Our chiropractic care and massage therapy compliment each other and can be used in conjunction to expedite results and maximize effectiveness. Tap us as a resource to help you understand any condition you may have, and how we can affect your rehabilitation and overall health and wellness.
Our practice is family based. We treat all age groups from toddlers to seniors — the full spectrum, helping patients in every walk of life.
Start Today
Take the first step towards relief by contacting our practice today and making an appointment to discuss your health goals.
---
About Kingsway Chiropractic Center In The Junction | (416) 236-9919